Stand on Liquid Moonraker 12'0" SUP

If it's adventure you seek, the Moonraker is the board of choice. Designed with added volume and width, you can explore your local waterways with the comfort of stability and plenty of gear in tow. The displacement hull and 31" deck provide both superior stability and glide, with exceptional tracking performance. Featuring both nose and tail tie down point, and an integrated GoPro mount to capture all your adventures.
FEATURES:

Pine Wood
CAD Designed Shape
Seamless Smooth EVA Deck Pad
GoPro Mount
Single US Fin System
Nose & Tail Tie Down Points
Leash Plug
| | |
| --- | --- |
| Board Type | Touring |
| Length | 12'0" |
| Width | 30.5" |
| Thickness | 6" |
| Volume | 250L |
| Weight | 26 lbs. |
| Fin System | Single Fin |
| Deck Pad | Smooth EVA Foam |
| Construction | 1.5LB EPS | Vacuum bagged bamboo | Carbon Reinforcement | Epoxy |
| Skill Level | Intermediate |
| Recommended Weight Capacity | Beginner: Up to 230 lbs. / Intermediate: Up to 260 lbs. / Advanced: Up to 300 lbs. |
| Stability Rating | 13 |
| Manufacturer Warranty | 1-Year |
Our best performing SUPS
Elegant Efficiency
Beautifully constructed for
Speed & Tracking
Your board. Your adventure.
Embark and Explore
Customer Reviews
100
reviewers would recommend this product
Write a Review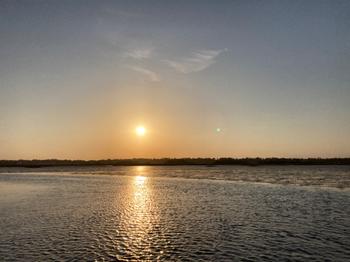 05/10/2022
I recommend this product
Exactly what I was looking for.
This board is lightweight for the size and cuts through water and waves well. It's so well balanced that it took some getting used to letting the board handle some waves. It does a great job of handling 250 pounds between me and the dog. The standing area is set lower than the rest of the board but still has plenty of moveable space. The only improvements I can think of is making the standing pad more comfortable. The other thing to note is the board can't go as shallow as other boards I've used. The front bungee cord broke after a few months but that's not a big deal.
Taylor S.

United States
06/28/2022
I recommend this product
Glad I did
I don't envy the task of matching unsure riders to new boards - the Latitude 44 staff were very helpful - I wasn't sure what board was next for me. I wanted to go a bit faster than my current all around board - but I wasn't necessarily unhappy with my experience on it - after dining a couple boards the staff helped me select the Moonraker - it is the best next step for me. After demo and buying - I was still having second thoughts but after both flat water and serious waves on Odell Lake - I learned to trust this board as another reviewer said. It got me back to shore like it was reading the water and self adjusting - It was the right next board. It cuts through chop and glides on flat- it is a little less stable than an all around of course - but really not significantly for me. It's weight makes it easy to travel with and haul to the water - Grateful and excited for next adventures - I love this board. I recommend the entire Latitude 44 experience!.
Deb O.

United States